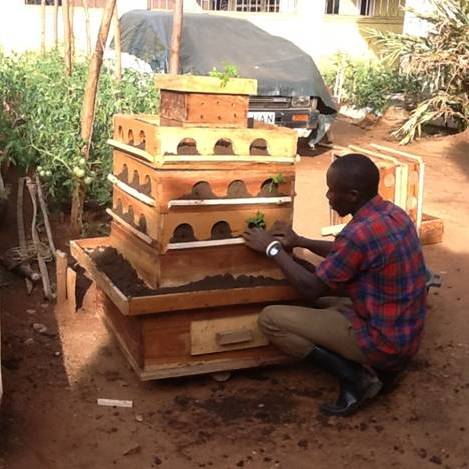 Vertical Micro-Gardening (VMG)
Category
Social Enterprise & Environment
Transforming Small Urban Environments into Productive Climate-Smart Gardens for Low Income Households
Key Activities & Achievments:
1. Each vertical micro-garden turns 9 square feet of land into 36 square feet of fertile soil.
2. Average annual earnings from a vertical micro-garden – UGX 1,200,000 ($355)
3. 15 vertical micro-gardens constructed at a demonstration site in Mengo, Kampala
4. Winners of MIT's Climate CoLab's Popular Choice Award
Vertical Micro-Gardens empower poor urban households with the ability to dramatically increase their incomes through efficiently using their limited space with gardens to grow agricultural produce such as tomatoes, cucumber, and potatoes.
Micro-gardening is a proven method for households to earn an extra income and help ensure food security. However, this project greatly enhances these traditional efforts with its vertical farming technology which converts 9 square feet into 36 square feet of farming space. The result is that each vertical micro-garden can earn a household UGX 1,200,000 ($355) per year – an exceptional boost to impoverished households.
Other benefits of the project include transforming bio-degradable urban waste into organic compost through a central camber with endangered earthworms – thereby reducing methane emissions. Further, the gardens make urban slums more hospitable and greener environments.
Each vertical micro-graden costs about UGX 600,000 to construct, therefore having remarkable quick returns on investment. We are currently working with UniTED to develop a model of distributing gardens to poor households to allow them to afford what would otherwise be a prohibitive upfront cost.
In the future, we believe we will be able to create a workshop to industrialise production of vertical micro-gardens to reduce on manufacturing costs. This will allow us to have vertical micro-gardens with thousands of households in the next 5 years.