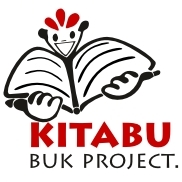 Promoting Reading in Ugandan Schools
Key Activities:
1. Recycling second-hand books from richer Ugandan pupils to the most vulnerable schools.
2. Teaching about the importance of reading during book distributions.
Kitabu Buk Project is an NGO started to show that the youth in Uganda can help their fellow youth.
We collect books and scholastic materials from wealthier schools, generally in Kampala, then check them to ensure quality, before distributing them in poorer schools in rural areas around the country. Our donations target the most at risk children and schools, such as those affected by the LRA insurgency in Northern Uganda, flooding, and disabilities. Many schools have a textbook to pupil ratio of 1:20 or worse, which makes learning to read, and enjoying reading, extremely difficult.
Since our inception, we've supported over 5000 children and over 500 teachers and parents through mentoring and donation of over 2500 text books and 3000 scholastic materials to twelve schools across the country.
With additional support to this project, we will touch more lives of children in Uganda by ensuring every child has access to a text book and a pencil while in class. We also aim to increase advocacy in schools through encouraging children to stay in school and read to better their future.